The search on what is the best Typeform alternatives for creating forms and surveys can just end here! We'll be discussing some free, paid, and worthy form builders and survey tools that can serve you best in fetching data.
Let's dive into the topic to understand what Typeform offers at present, the reasons to switch for better alternatives, and the different viable Typeform alternatives.
Before getting started, it's important that you get to know how Typeform is being used in the market. Then, inspect the need to think about the alternatives. Finally, you can look through the curated list of Typeform alternatives.
Typeform alternatives – Free & Paid
1. SurveySparrow

SurveySparrow can serve as the perfect Typeform alternative that can get you up to a 40% increase in response rate. For a lesser cost and with a similar conversational approach to asking questions, SurveySparrow enriches the customer experience with stunning customizable designs. Its unique features turn surveys into engaging conversations, helping users get important information while also connecting with people. This means users can make better decisions based on real interactions, not just numbers.

Features
500+ sleek templates

that can be customized for your needs

20+ native integrations

to suit your tech ecosystem

Case management

to close the feedback loop and establish a connection with the audience

Advance CSS customizations

to design according to your style guide

Robust NPS tool

to gauge customer/employee loyalty

Create chat surveys

and deploy them as pop-up/embed/bot to collect responses on the go

Executive dashboard

to have a holistic view of all the responses in the form of widgets
Trial & Pricing
It's free to use for basic needs. You can also try the enterprise-level trial for 14 days without giving credit card details. The pricing starts at a modest $19/month for the quality features it offers.
2. Jotform
It's a drag-and-drop survey creator that can be effectively used as an alternative to Typeform. It specializes in data collection along with payment processing. It allows you to create and preview a form without signing up! JotForm mirrors Typeform's user-friendly approach, enabling users to build versatile forms, collect payments, and customize their survey experiences.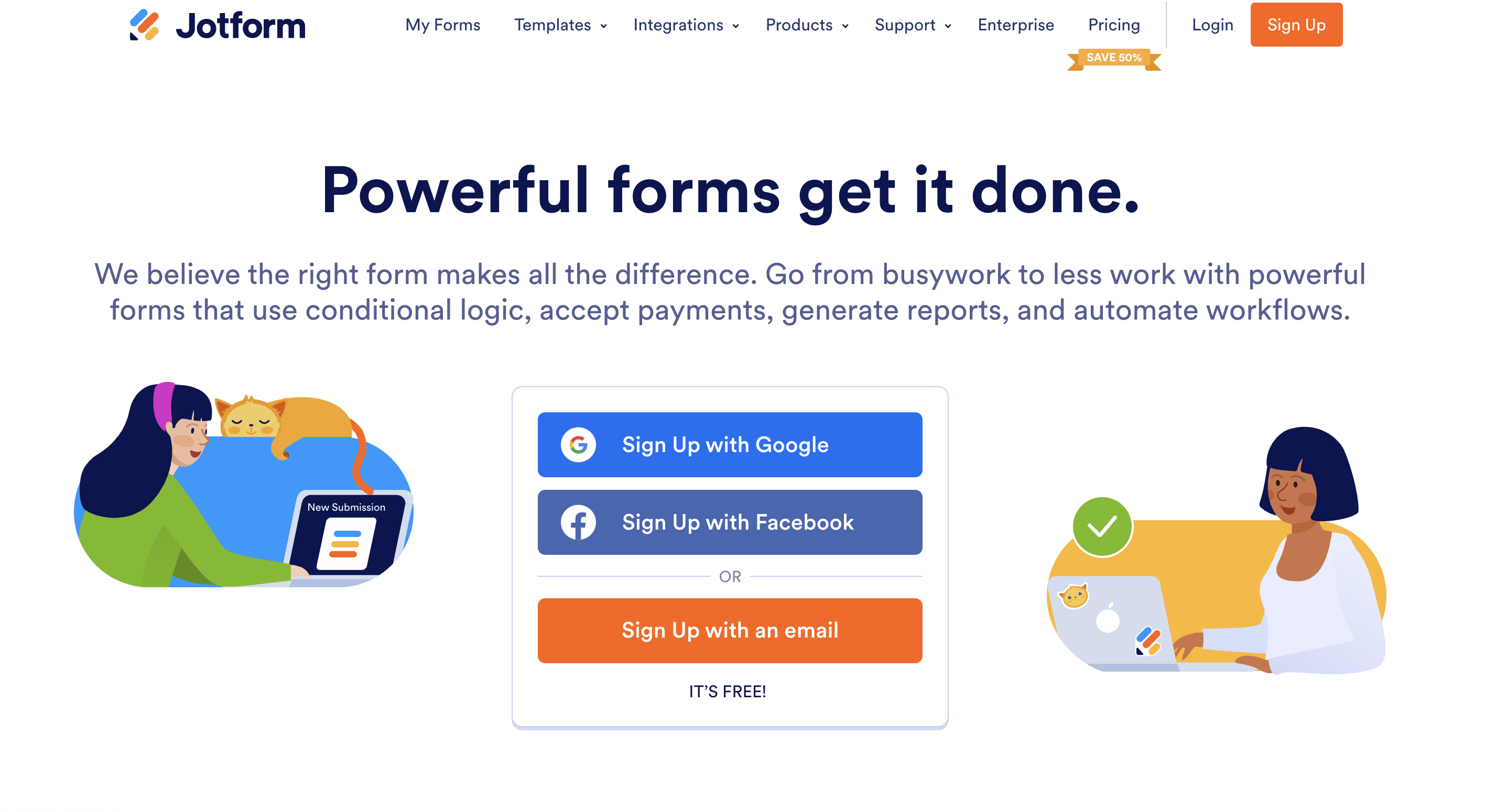 Features
10,000+ form templates

for various needs

Encrypt form responses

on top of SSL

Drag and Drop questions

to easily create the form

PDF to HTML web form conversion

for flexible form creation
Trial & Pricing
It provides a free trial and is priced at $24/month. 
3.SurveyLegend
SurveyLegend, the survey software, helps create neat-looking online surveys. It's one of the growing businesses in the survey-building field. SurveyLegend shares key features with Typeform, including visual design, interactive surveys, mobile compatibility, and customization options.

Features
25+ question types

to create a form

Advanced conditional branching

options to design your survey

Backdrop layer

for better visibility of questions

Adjust font style and size

for better readability
Trial & Pricing
You can try the free trial to test the features, and the pricing range starts at $15/month.
4. Aidaform
Aidaform can serve as a nice alternative to Typeform to easily create simple online forms. It would work well for beginners to use online forms for data collection. Customization and branding options ensure a consistent look, while mobile responsiveness guarantees accessibility across devices. AidaForm's versatile question types and conditional logic provide tailored survey experiences akin to Typeform.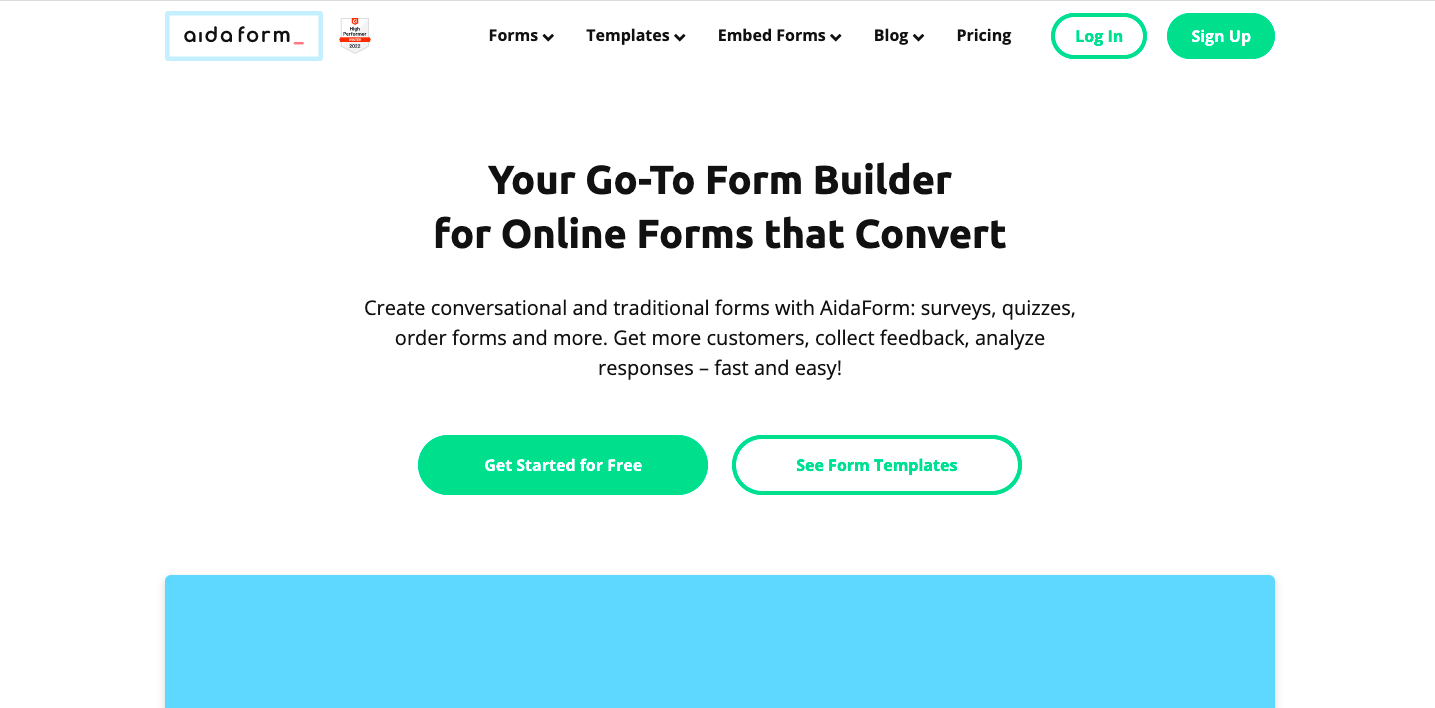 Features
17 supported languages

to create forms

Embed forms

on web pages to collect data

Password protect

forms to restrict access to the right audience

Generate custom reports

with collected responses

Stripe and Paypal

payment options within the forms
Trial & Pricing
You can try the form builder with a free trial, and the subscription starts at $8/month.
5. SoGoSurvey
SoGoSurvey can be the survey software you're looking for, with similar good-looking online forms to Typeform. You can custom import and export data from the platform to suit your needs. SoGoSurvey's comprehensive analytics and reporting capabilities align with Typeform's emphasis on data insights. Additionally, integration possibilities expand its functionality, making it a well-rounded solution for diverse survey needs.

Features
Customizable survey themes

to better suit your requirements

Trigger survey invitations

with native integrations

Ticketing system

in place to close the feedback loop

Sentiment analysis

helps gauge the audience's emotions

Intuitive dashboard

to have a clear overview of the results
Trial & Pricing
It comes with a 10-day trial to get a sense of the product. $25/month is the price of its starting plan.
6. Zoho Survey
The SaaS giant's survey tool can serve as a potential alternative to Typeform with its strong native integrations. You can create forms and surveys and use its native integrations with ease. Its user-friendly interface fosters easy survey creation, catering to both newcomers and experienced users. Zoho Survey's reporting and analytics tools parallel Typeform's focus on deriving actionable insights from survey data. Moreover, integration capabilities, akin to Typeform, expand its functionality to seamlessly fit within existing workflows.

Features
200+ templates

to create surveys on the go

25+ question types

to choose your requirement

Customizable themes

that can help adhere to your style guide

Password protects

your surveys to accept only valid responses

Share a preview

of your survey to get feedback on the same
Trial & Pricing
You can try the 7-day trial without giving out credit card details. The subscription starts at $20/month.
7. Google Forms
Google Forms can be the best free form-building tool you might be looking for while you have a tight budget. Offering a variety of templates, Google Forms enables swift survey creation, paralleling Typeform's versatility. Its intuitive interface aligns with Typeform's user-centric approach, ensuring effortless survey creation and completion.

Features
17 templates

to get you started with creating forms

Drag and drop to reorder

the questions according to your wish

Sectionalize form

to ask relevant questions accordingly

Embed forms

on your website to collect feedback

Export data

to Google sheets easily
Trial & Pricing
It's available for free. The trial for additional features comes with a 14-day limit. The priced subscription starts at $12/month.
8. Qualtrics
Qualtrics aims at measuring and improving customer experience with its platform. The experience management platform is too good with rich features. The pricing of the platform might be a deal-breaker for SMBs. Its powerful analytics tools empower users to extract meaningful insights from responses, much like Typeform's focus on data-driven conclusions.

Features
100+ question types

to create your questionnaire

Drag and drop UI

to create surveys with ease.

Share

through email, SMS, native apps, and more.

Workflows

to close the feedback loop.
Trial & Pricing
The platform offers a free unlimited trial to explore its functionality. It requires $1500/year to subscribe for its basic features.
9. 123FormBuilder
As a competitive Typeform alternative, 123FormBuilder has a secure online form builder for data collection. It has a whopping 2000+ form templates for different use cases to get you started. That would help you get going. The platform's payment processing options, data security, and custom reporting capabilities align with Typeform's features. With over 2000 form templates and mobile-responsive design, 123FormBuilder offers versatility similar to Typeform.

Features
2000+ form templates

to get started with your forms

30+ advanced integrations

, including Zapier, Dropbox, Shopify, and HubSpot

Payment processing

with PayPal, Square, Stripe, FreshBooks, PayU, and more.

Adheres to GDPR

and HIPAA compliances
Trial & Pricing
You can try the free 15-day trial to learn about the form builder. The priced subscription starts at $19.99/month. 
10. Survio
Survio helps create online questionnaires that cater to different use cases. Its mobile-ready surveys subtly nudge the audience and collect data seamlessly. Its pricing would certainly tempt you to jump safely from Typeform.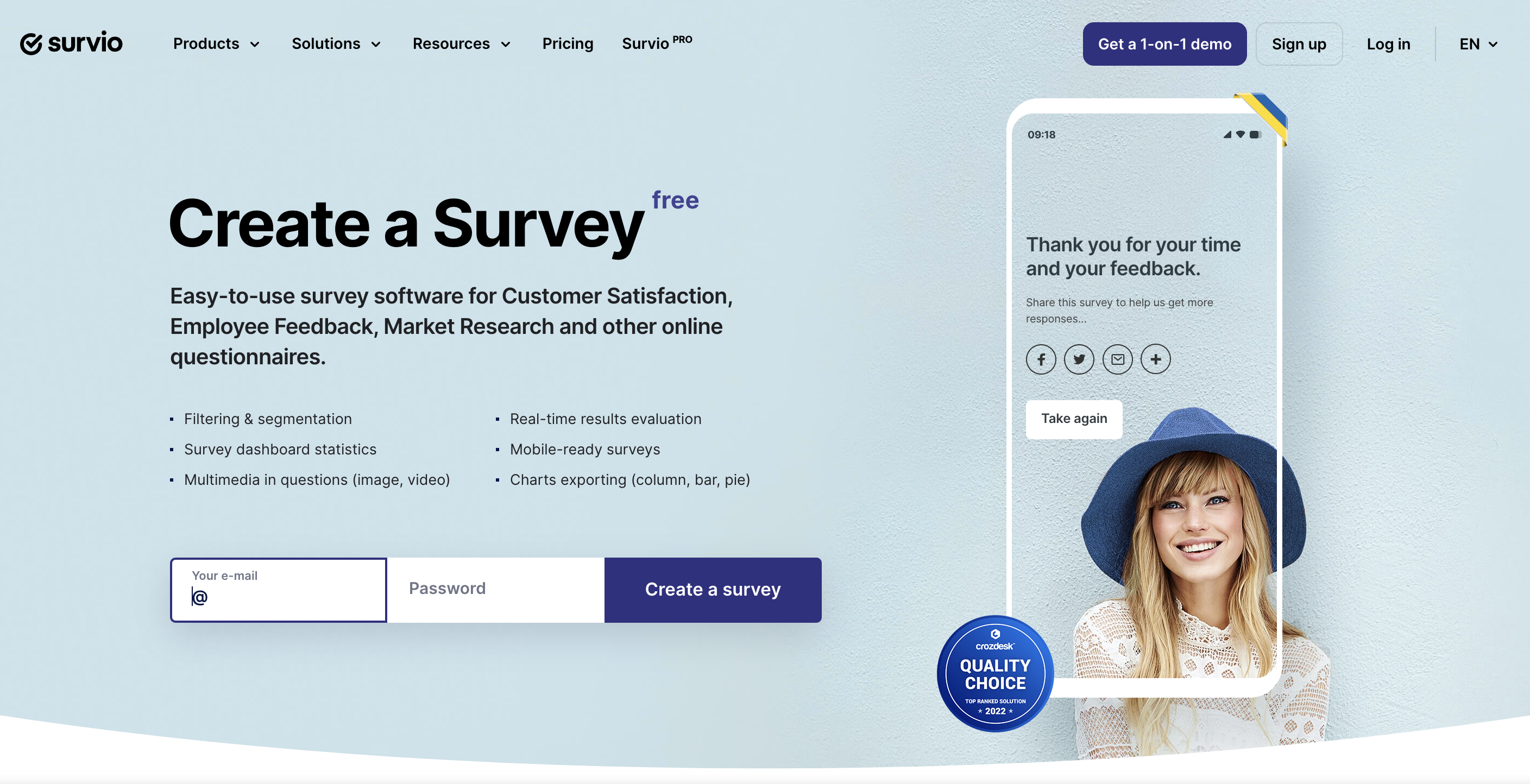 Features
100+ templates

to accelerate creating surveys

19 question types

to create your surveys

Download data

in PDF, XLSx, DOCx, and CSV

Analyze results

in real-time

Clone questions

within the survey
Trial & Pricing
You can play around with the tool with the 14-day trial to get a feel of the software. The paid subscription starts with the Mini pan at $18.33/month.
Typeform alternatives – Paid
11. Paperform
Paperform can serve as a good form-building tool and comes with flexible payment options that you can include in the forms. The UI for creating the form is slightly mundane, though.

Features
650+ templates

for unique needs 

24 question types

readily available to fetch the data

Schedule the distribution

of online forms

Conditional logic

for designing the questionnaire

Multiple payment options

for the payment field
Trial & Pricing
It offers a 14-day trial to try out its features, and the pricing starts from $20/month.
12. SurveyMonkey
SurveyMonkey is a proper Typeform competitor and can serve as its alternative with the trust it has earned over the years. It helps in creating surveys that are simple and easy to deploy.

Features
250+ templates

curated for various customer needs

100+ app integrations

to play around with the data

Audience panel

to carry out market research

Multilingual surveys

for the comfort of the audience

360-degree feedback

for the development of individuals
Trial & Pricing
It offers a gracious 30-day trial period to get a feel of the platform. The pricing range starts at $25/month.
13. Formstack
Formstack helps you create custom online forms easily. The automation it has in store streamlines the response management process and helps close the feedback loop. The forms are mobile-friendly, making it a smooth form filing process for the responders.

Features
Drag and drop

form builder to create forms easily.

Conditional logic

to help ask relevant questions.

Share

via email and social shares.

Create workflows

to close the feedback loop.

Download

the submissions as PDF.
Trial & Pricing
Formstack offers a 14-day trial to get a feel of the form builder. The basic Starter plan is priced at $50/month. It doesn't have a Free plan.
14. Alchemer
Alchemer, formerly known as SurveyGizmo, can be a good contender as a  Typeform alternative. It is a feedback data collection and analysis tool suitable for various use cases. It provides an audience panel in partnership with the help of panel providers.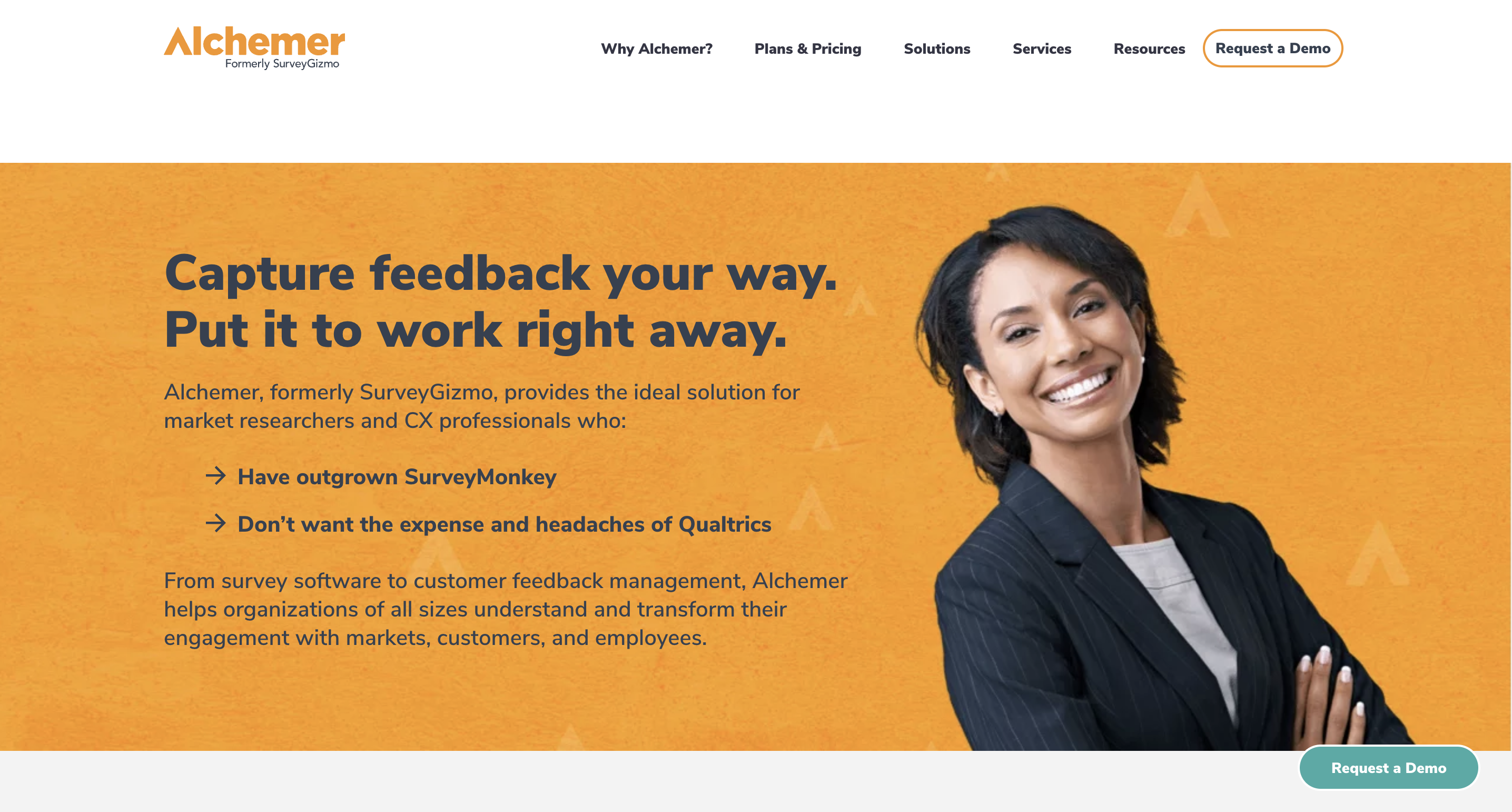 Features
30+ question types

to create online forms

Partnered with panel providers

like Cint and Lucid to get an audience

Conditional logic

and piping data to create forms with a relevant flow effectively.

Survey legend

to assist the user

with a legend or key to your survey

Conjoint analysis

to understand the value of your products/services
Trial & Pricing
Alchemer allows you a 7-day trial period to analyze the product. The pricing starts with its Collaborator plan at $49/month. Free plan not available.
Typeform alternatives – For WordPress
15. WPForms
As a solid form builder, WPForms is specially made considering the usage of WordPress-powered websites. It helps create forms, surveys, and polls for your custom needs.

Features
300+ templates

to get started with creating forms

Use CAPTCHA and reCAPTCHA

to prevent spam responses

Collect payments easily

with PayPal, Stripe, Square, and Authorize.net

Form locker

to restrict the access and submissions for specific forms

Conversational form option

to ask one question at a time
Trial & Pricing
It doesn't offer a trial but provides a 100% money-back guarantee within 14 days of usage. The basic plan is priced at $39.5/year.
16. Tripetto
Tripetto is one of the online form builders, which can be a good Typeform alternative with plugins catering to customer needs. It helps build forms like flow charts to have a clear understanding while creating forms.

Features
21 question types

to create your form

Dedicated WordPress plugin

to easily create a form for its users

Embed forms

in the website to collect data

Customize font and colors

for your survey to suit your needs

Set scroll direction

for the survey to create a better feel
Trial & Pricing
It doesn't offer a free trial but gives a 100% money-back guarantee within 14 days of usage. The pricing begins at $99/year.
17. Gravity Forms
Gravity Forms can be positioned as a Typeform alternative, with its ability to capture data effectively for WordPress forms. The WordPress plugin has an intuitive form builder. You can set up the feedback collection process and follow-up response without missing any.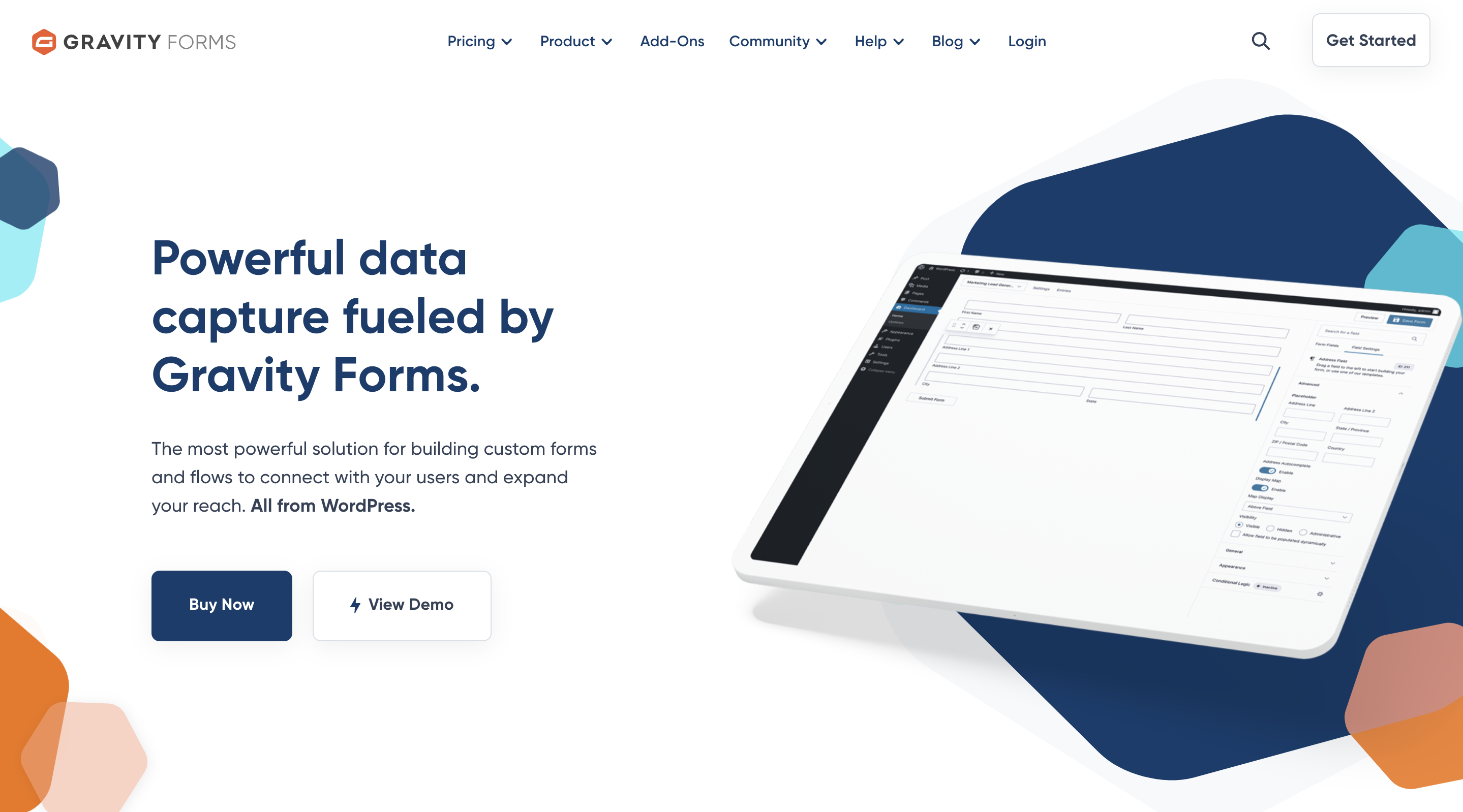 Features
Drag and drop form builder

to create forms easily.

Conditional logic

is available to custom design the flow of questions.

Multi-page forms

to personalize the user experience

Save and Continue option

to improve the completion rate
Trial & Pricing
It doesn't offer any Trial version to try the product. The pricing plan starts with its Basic license at $59/year.
Typeform Alternatives – Pricing Comparison table
As you can see, any Typeform equivalent you choose has got features worth the subscription. It's also significant to note that, similar to Typeform, a Free trial version is offered by most of its alternatives. It helps you to try them out before spending your money. In that way, you could explore the solutions they provide and how it meets your requirements. Keeping the customer journey in mind while choosing a survey platform is vital for businesses. The best alternative is always subjective, and it's better to check them before jumping to conclusions.
What is Typeform used for?
Typeform offers a conversational online survey tool to interact with the responders. Essentially, they are used to collect online feedback and data collection. It helps to understand the customers' mindset at different touchpoints. One can identify the pain points associated with each stage in the customer journey and work upon them.
Why look beyond Typeform?
While Typeform strives to be conversational and does a decent job, it certainly has some shortcomings, including its mundane form-building UI and pricing. With just 20+ languages supported, it becomes restricted to leaner demography. All these factors contribute to deterring a lot of customers from continuing with it.
Which one would be your Typeform alternative?
Now, that's all about the curated alternatives for Typeform we have at present. I hope you found something useful to make a switch from Typeform to one from the list discussed. Try the ones that ring a bell with your needs, and go for it
Please do drop any other alternatives that I may have missed out on and your thoughts about the Typeform alternatives. Happy surveying 🙂