For the past several years, Jotform has been my tool of choice when creating online forms. I've used it in my role as a content writer for everything from basic contact forms to more involved surveys and quizzes. The adaptability of Jotform is one of its many strengths. It's possible to design unique surveys and forms for any business or organization, no matter how big or small. 
The pricing options provided by Jotform might be more expensive than those of some of its competitors. Jotform's subscription plans start at $24 per month for up to 1,000 submissions/month, while the service does provide a free plan with limited functionality. 
When compared to its rivals, Jotform may also fall short in the areas of analytics and reporting. Jotform may not be as feature-rich as other online form builders, but it provides some basic reporting features. Finally, Jotform's interface may seem too complex or cluttered to some users, especially those who are unfamiliar with creating online forms. 
Although Jotform's drag-and-drop interface is simple to use, getting accustomed to the various customization options and settings may take some time.
JotForm is a more modern and feature-rich program, but it's not right for every business. I've compiled a list of the top 10 Jotform alternatives that you may use in 2023.
Top JotForm Alternatives to Use in 2023
Let's compare each one and see how they stack up against one another.
1. SurveySparrow: User-friendly Jotform Alternative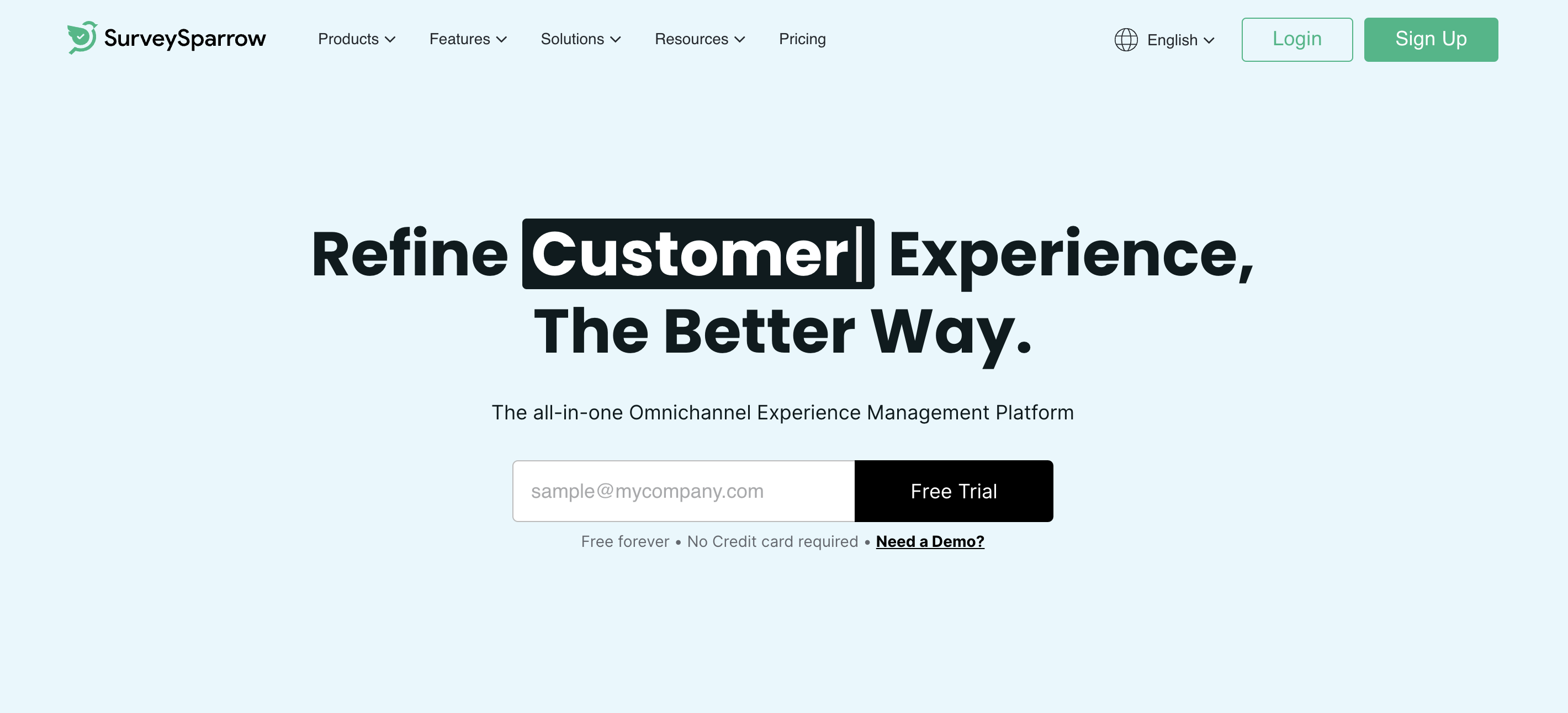 I've had the opportunity to use Surveysparrow, and I must say that it is a versatile form builder and survey tool and is one of the best Jotform alternatives. One thing that stood out to me was its easy-to-use interface and variety of features. With Surveysparrow, I was able to create custom surveys, quizzes, and forms to meet my specific needs, and it offered a range of templates to get me started. The conversational interface was also impressive, using a chat-style format to guide respondents through the survey process. This made it more engaging and interactive than traditional surveys, and resulted in higher completion rates.
Features :
Surveysparrow offers more than 500 sleek templates that can be fully customized to meet your unique needs.
500+ sleek templates that can be customized for your needs

20+ native integrations to suit your tech ecosystem

Case management to close the feedback loop and establish a connection with the audience

Advance CSS customizations to design according to your style guide

Robust NPS tool to gauge customer/employee loyalty

Create chat surveys and deploy them as pop-up/embed/bot to collect responses on the go

Executive dashboard to have a holistic view of all the responses in the form of widgets

Trial & Pricing
Pricing :
In my experience as a user, the form builder's basic version is available at no cost. The application's enterprise-level functionality can be tried out for 14 days without providing any payment information. The starting price of the paid version is only $19 a month, which is very reasonable in light of the high quality of the features it provides.
2. Typeform: Engaging, easy-to-use, and customizable.
Create surveys, quizzes, and other forms with ease with Typeform's conversational interface and extensive customization possibilities.  The conversational interface stands out because it makes the survey process more dynamic and interesting for respondents.
Features :
Typeform offers a range of templates to help you get started

Integrates with a variety of tools and platforms

Provides an NPS tool to measure customer loyalty and satisfaction

Offers advanced design customization options with CSS

Allows you to create chat surveys and deploy them on pop-ups, embeds, or bots

Provides a dashboard to track responses and gain insights
Pricing :
Typeform has a free version that's limited in what it can do, and it also has monthly subscription options that start at $35. Businesses that want to strengthen their data collection and engagement methods will find it worthwhile to invest in this product because of the breadth and simplicity of its features.
3. SurveyMonkey: Easy-to-use and Customizable.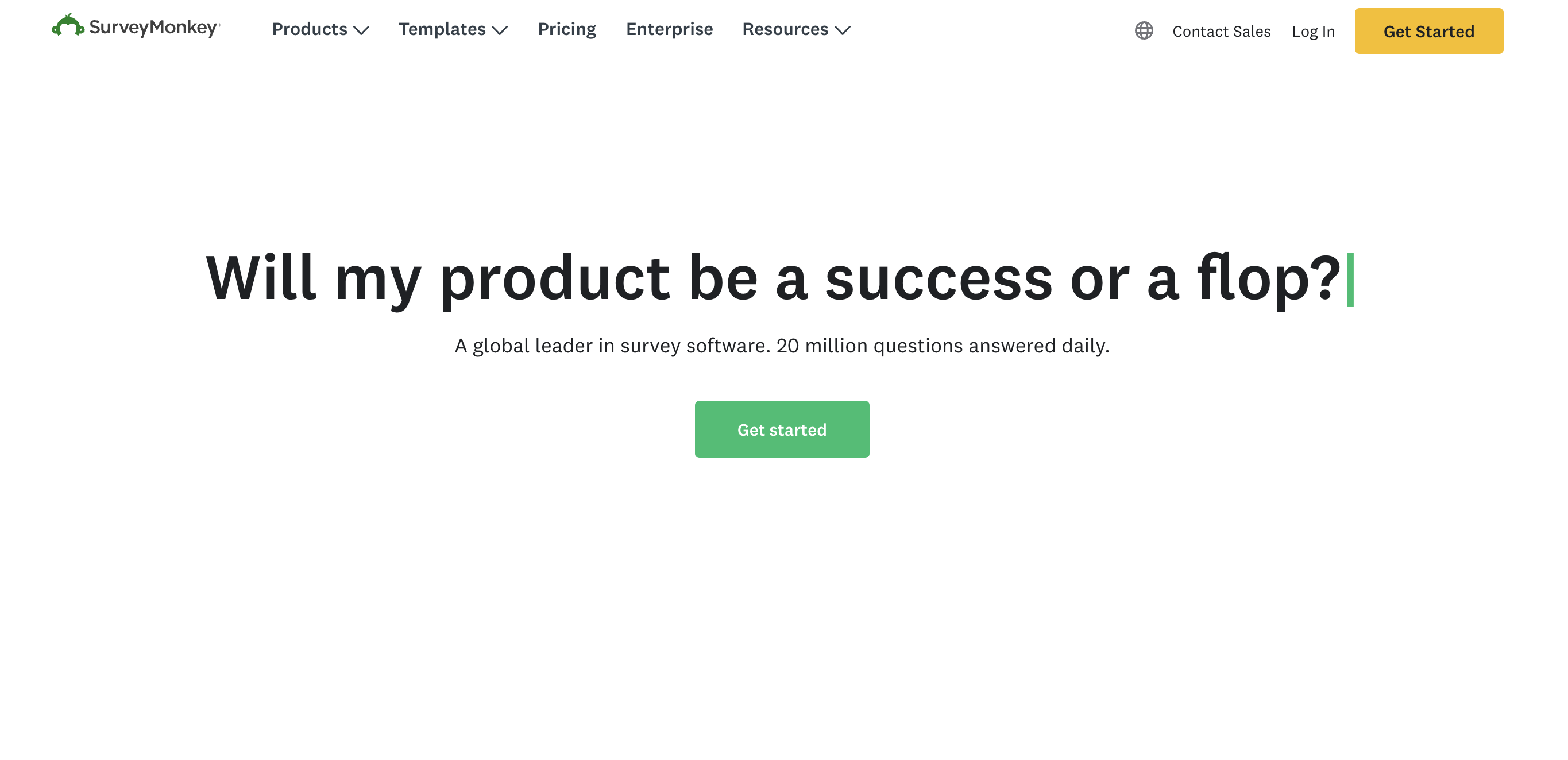 Using SurveyMonkey, you can quickly and easily make your own surveys and other types of forms. It has a user-friendly layout and a large variety of functions that may be used for either personal or professional purposes.
Features :
250+ templates curated for various customer needs

100+ app integrations to play around with the data

Audience panel to carry out market research

Multilingual surveys for the comfort of the audience

360-degree feedback for the development of individuals
Pricing :
If you are interested in learning more about the service, you have the opportunity to sign up for a risk-free trial that lasts for a period of thirty days. A monthly subscription can be purchased for a starting fee of $25.
4. Paperform: Great Looking and Powerful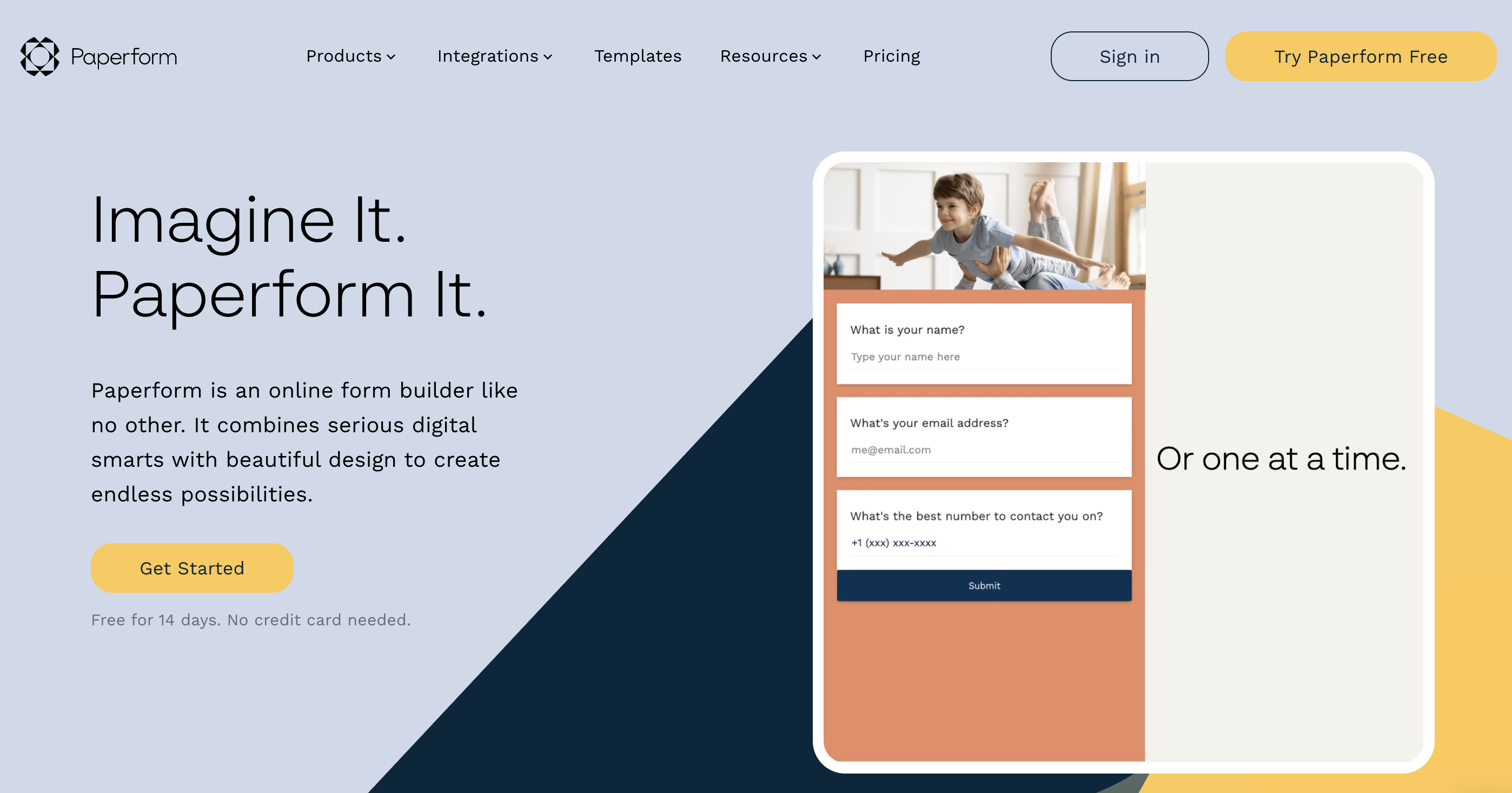 Paperform is a helpful tool for making forms, and it has a number of flexible payment options that may be included into those forms. Despite this, the form's builder has a quite uninspiring user interface.
Features :
250+ templates curated for various customer needs

100+ app integrations to play around with the data

Audience panel to carry out market research

Multilingual surveys for the comfort of the audience

360-degree feedback for the development of individuals
Pricing :
Users may try out Paperform risk-free for 14 days before committing to a paid subscription. With monthly plans starting at only $20, this survey software is within the price range of businesses wishing to use consumer feedback to better serve their clientele.
5. Formstack : Automated and Mobile friendly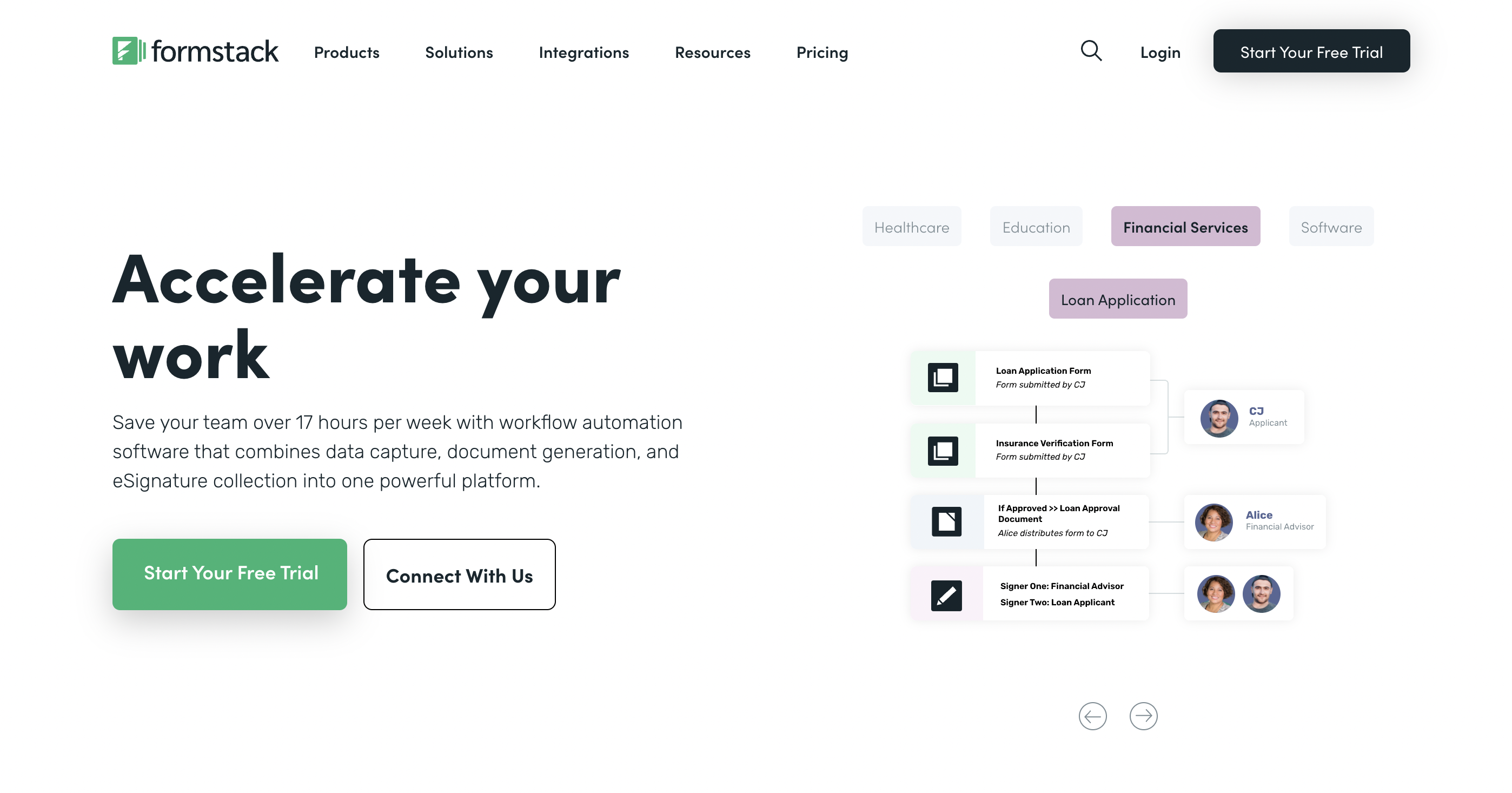 Using Formstack, you can quickly and easily make your own online forms. Its planned automation makes response management more efficient and aids in completing the feedback loop. Respondents will have an easy time filling out the forms because they are mobile-friendly.
Features :
Drag and drop form builder to create forms easily.

Conditional logic to help ask relevant questions.

Share via email and social shares.

Create workflows to close the feedback loop.

Download the submissions as PDF.
Pricing :
A 14-day trial is available for Formstack. No free tier exists, and the Starter plan costs $50 per month. Payment processing, encryption, conditional logic, analytics, and customizable form layouts and questions are included in the base plan.
6. SurveyLegend : Easy-to-use and Customizable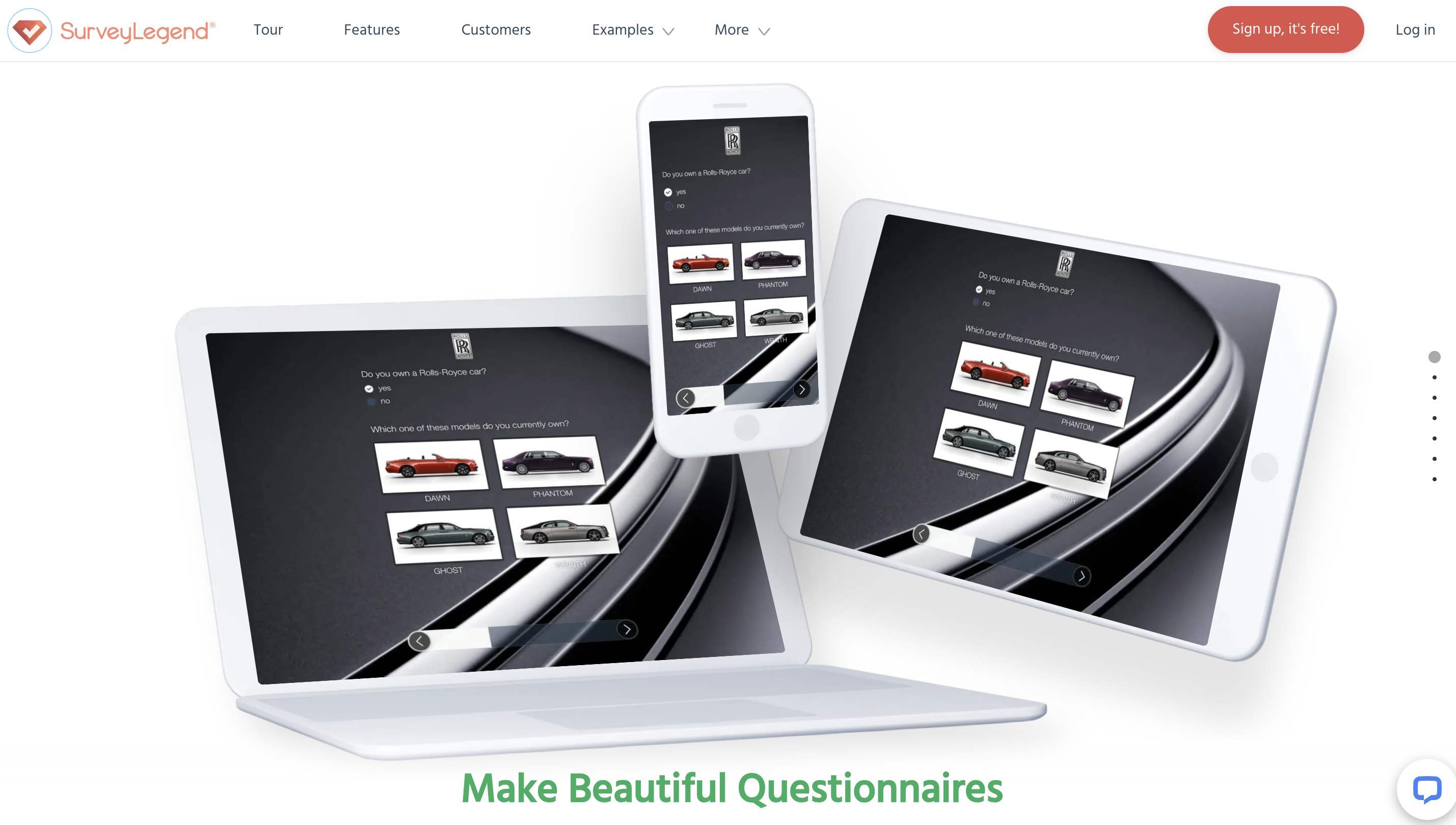 With SurveyLegend, small and medium-sized businesses (SMBs) have access to a unified hub from which they can design and distribute engaging surveys optimized for mobile devices.
Features :
25+ question types to create a form

Advanced conditional branching options to design your survey

Backdrop layer for better visibility of questions

Adjust font style and size for better readability
Pricing :
The pricing for Wufoo starts at $15/month, which includes customizable form templates, a variety of question types, custom branding, payment processing, data encryption, and conditional logic. Users can try out the free trial to get a better understanding of the platform's capabilities before deciding on a paid plan.
7. Aidaform : Easy-to-use and Efficient

When you need a simple web form but don't want to use Jotform, Aidaform is a good option. Because of its user-friendly drag-and-drop interface and flexible pre-made templates, it is perfect for novices looking to gather information rapidly and easily.    
Features :
17 supported languages to create forms

Embed forms on web pages to collect data

Password protect forms to restrict access to the right audience

Generate custom reports with collected responses

Stripe and Paypal payment options within the forms
Pricing :
The subscription begins at just $8 a month, making it a good choice for people on a tight budget. If you're looking for a simple, low-cost form-making solution, I suggest giving Aidaform a try.
8. Zoho Survey : Simple, Direct and User-friendly
The survey tool offered by this SaaS giant is a great Jotform alternative due to the extensive native connections it possesses. It features pre-existing links that simplify the process of creating surveys and forms and making them available for use.
Features :
200+ templates to create surveys on the go

25+ question types to choose your requirement

Customizable themes that can help adhere to your style guide

Password protect your surveys to accept only valid responses

Share a preview of your survey to get feedback on the same
Pricing :
You are able to test out the 7-day trial without having to provide any payment card information. The monthly cost of the membership begins at $20.
9. Qualtrics : Simple, Direct and User-friendly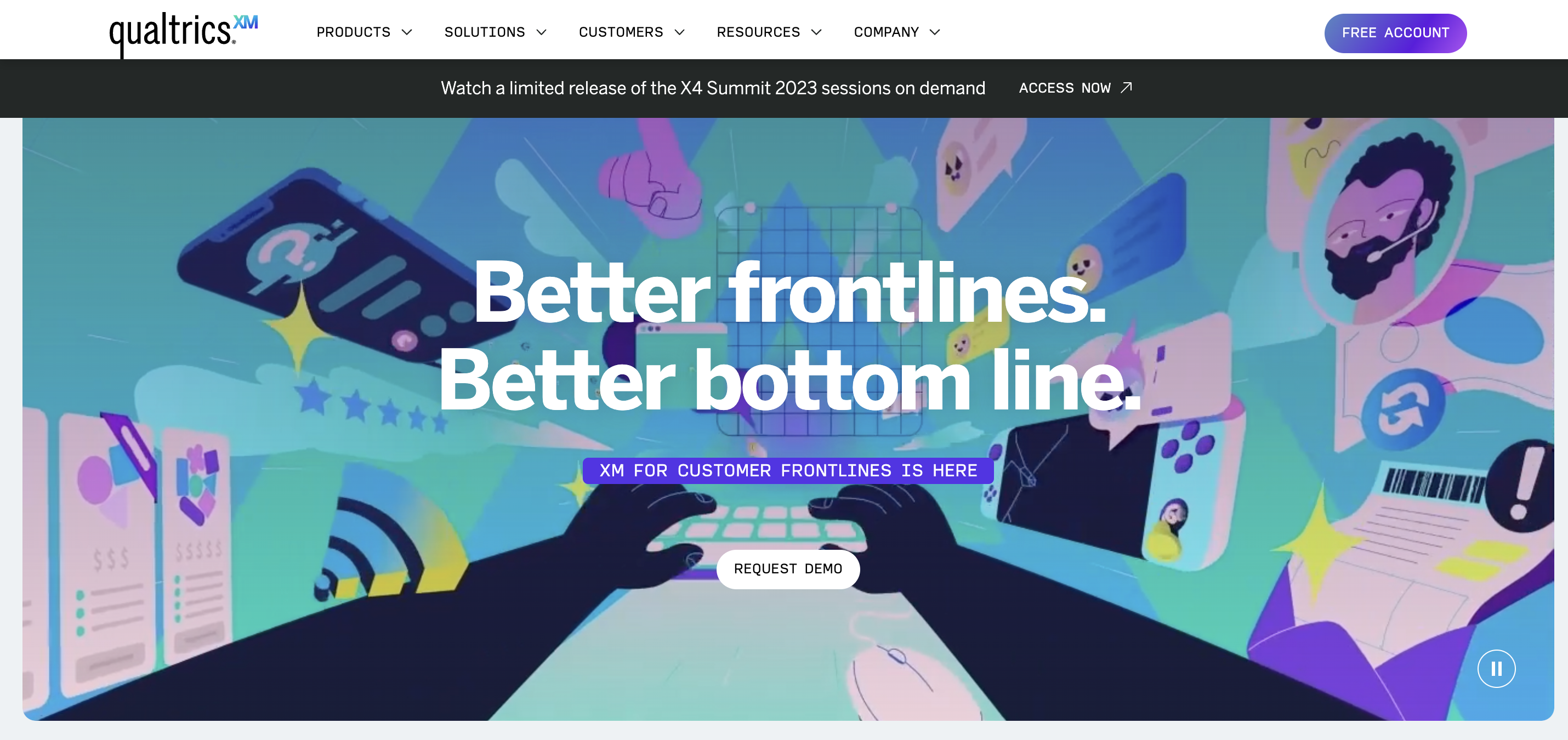 With its platform, Qualtrics aims to measure and improve the overall experience that its customers have. Its customer experience management software has an impressively extensive feature set. It's possible that the pricing structure of the platform may prevent SMBs from moving further.
Features :
100+ question types to create your questionnaire

Drag and drop UI to create surveys with ease.

Share through email, SMS, native apps, and more.

Workflows to close the feedback loop.
Pricing :
The trial version of the platform allows users to explore its capabilities at no cost and without restrictions. A subscription to its most fundamental features costs $1500 per year to maintain.
10. Survio : Intuitive, Clear and Fast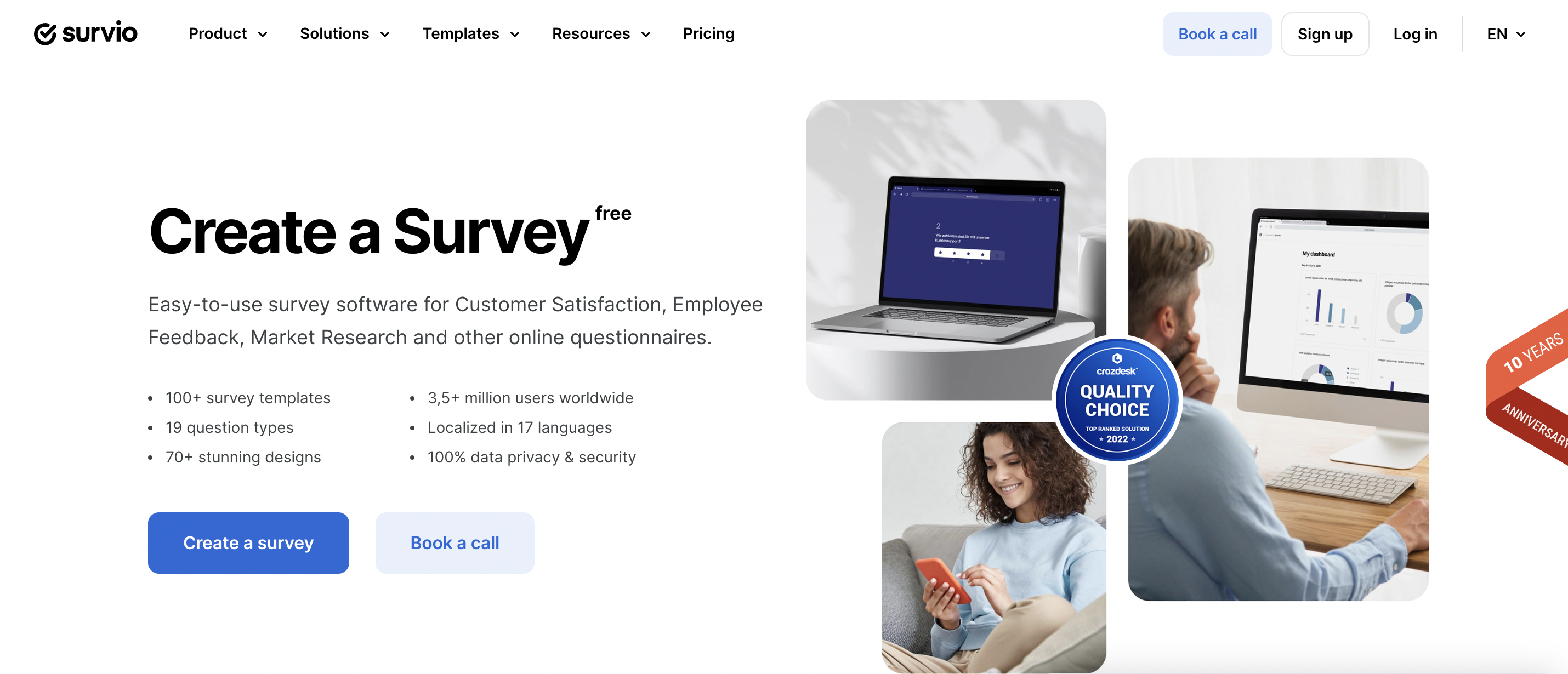 Survio has an extensive set of tools for collecting and analyzing responses, as well as pre-made survey templates you may tweak to fit your needs. It can be a great choice for companies that want to enhance their customers' experiences.
Features :
100+ templates to accelerate creating surveys

19 question types to create your surveys

Download data in PDF, XLSx, DOCx, and CSV

Analyze results in real-time

Clone questions within the survey
Pricing :
The 14-day trial gives you plenty of time to familiarize yourself with the program and see if it meets your needs. Monthly membership for the Mini Pan is $18.33.
Which one would be your Jotform alternative?
That concludes my collection of carefully chosen alternatives to Jotform. If you're considering transferring from Jotform to another service on the list, I hope you found some helpful information here. You should give the ones that seem to fit your requirements a try.
Leave your thoughts on the alternatives to Typeform and any other alternatives I may have missed. Have fun mapping!